ASSAM
Assam cancels 2.66 lakh bogus ration cards
Assam government has cancelled over 2.66 lakh bogus ration cards across the state and added more than 2.42 lakh people in the list of genuine beneficiaries.
Food and civil supplies minister Rihon Daimary said over 2.66 lakh cards issued under the National Food Security Act (NFSA) to eliminate ghost beneficiaries.
In place of the deleted names, over 2.42 lakh genuine beneficiaries have been added after verification and scrutiny, Daimary said.
He admitted that some lapses in the selection of beneficiaries have been detected and action has been taken to rectify them on regular intervals.
The NFSA was implemented in state in December 2015 and a total of 2.5 crore beneficiaries have been selected based on the Census 2011 data. The Act covers over 84 per cent of the population in rural areas and over 60 per cent in urban areas.
INTERNATIONAL
World Theatre Day: 27 March
World Theatre Day was initiated in 1961 by the International Theatre Institute (ITI).
It is celebrated annually on the 27th March by ITI Centres and the international theatre community.
The first World Theatre Day International Message was written by Jean Cocteau (France) in 1962.
Department of Posts launches Cool EMS Service between India and Japan
Ministry of Communications has launched the Cool EMS Service which will come into force from 29.03.2018.
Cool EMS service is one-way service from Japan to India which allows customers in India to import Japanese food items for personal use which is allowed under Indian regulations.
Initially, Cool EMS Service will be available in Delhi only.
Food items will be carried by Japan Post in special cool boxes containing refrigerant to preserve the quality of the food items and addressee will collect them from Foreign Post office, Kotla Road, New Delhi in-person or through a messenger in the prescribed time frame.
Liashkova from Belarus wins Miss Supermodel Worldwide 2018 title
Belarus beauty Aleksandra Liashkova won Miss Supermodel Worldwide 2018 title at a grand finale in Gurugram. Ekaterina Evdokimova of Russia was declared 1st runner-up.
India's Shweta Parmar was awarded Miss Congeniality.
First edition of the pageant saw Liashkova beating 42 other hopefuls. It was organised by Ten Square Media and Rubaru Group.
·        Exim Bank Extends $500 Million Loan Facility To 15-Nation Group In Africa
The Export-Import Bank, Exim Bankannounced that it will provide a USD 500 million credit facility to Economic Community of West African States (ECOWAS) to fund various development projects in western-south Africa.
According to the Bank, with the signing of line of credit (LoC) agreement, the Bank till date has extended four LoCs to the Bank for Investment and Development (EBID) of West African States, taking the total value of LOCs to USD 1,000 million.
The LoC of USD 500 million is an umbrella limit for financing developmental projects in 15-member countries.
·        India and China Agree To A Roadmap For Addressing Trade Imbalance
The eleventh session of the China-India joint-groupon Economic Relations, Trade, Science & Technology was held in New Delhi.
The session was co-chaired by the Union Minister of Commerce & Industry and Civil Aviation, Suresh Prabhu and the Minister of Commerce of the People's Republic of China, Zhong Shan.
The two Ministers agreed to continue to take forward the initiatives identified in the Five Year Development Programme for Economic and Trade Cooperation between China and India signed in September 2014.
NATIONAL
IM-PDS approved for implementation during 2018-19 and 2019-20
A new central sector scheme namely "Integrated Management of Public Distribution System (IM-PDS)" has been approved for implementation during 2018-19 and 2019-20.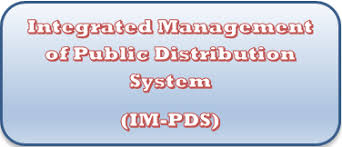 The key objectives of the scheme are to integrate PDS system/portals of States/UTs with Central System/portals, introduction of National Portability, and de-duplication of ration cards/beneficiary, etc.
Setting up of National Academic Depository (NAD) for Digitalization of School Records
Government has setup National Academic Depository (NAD) which is a 24×7 online store house of academic awards digitally lodged by various academic institutions/school boards/eligibility assessment bodies.
The University Grants Commission (UGC) has been designated as authorized body to operationalise NAD.
Deadline To Link PAN With Aadhaar Extended To June 30
The CBDT has extended the deadline for the PAN-Aadhaar linking to June 30. The policy-making body of the tax department issued an order extending the deadline from the current last date of March 31.
The order said the deadline for PAN-Aadhaar linking for filing I-T returns is being extended after "consideration of the matter".
3,21,567 Affordable Houses sanctioned for Urban Poor under PMAY(Urban)
Ministry of Housing & Urban Affairs has approved the construction of 3,21,567 more affordable houses for the benefit of urban poor under Pradhan Mantri Awas Yojana (Urban) with an investment of Rs. 18,203  cr with central assistance of Rs. 4,752  cr.
The approval was given in the 32nd meeting of the Central Sanctioning and Monitoring Committee.
The projects were sanctioned across 523 cities in the states of Haryana, West Bengal, Rajasthan, Uttar Pradesh, Gujarat, Mizoram, Karnataka, Maharashtra, Madhya Pradesh, Bihar, Kerala, Himachal Pradesh, Punjab & Goa.
With the above proposed houses, cumulative houses under PMAY(U) would become 42,45,792 after final approval from CSMC.
Further after subsuming projects of RAY scheme the total number of houses being funded under PMAY(Urban) would be 43,87,640 houses.
APSC Notes brings Prelims and Mains programs for APSC Prelims and APSC Mains Exam preparation. Various Programs initiated by APSC Notes are as follows:-
For any doubt, Just leave us a Chat or
Fill us a querry