ASSAM
Dense fog hits traffic in Guwahati, Northeast-bound trains run late
Dense fog affected life in the northeast in the last 24 hours with visibility reducing significantly around Guwahati in the early hours on Saturday. While many NE-bound trains were running late, traffic movement in the city was also hit.
The lowest minimum temperature of 11degrees Celsius was recorded at North Lakhimpur and Chaparmukh. In Shillong, the mercury dropped to 5 degrees Celsius — the lowest in the hills — in the last 24 hours. Available data indicate that dry weather prevailed over Arunachal Pradesh, Assam, Meghalaya, Nagaland, Manipur, Mizoram and Tripura during the period and is likely to remain the same on Sunday.
INTERNATIONAL
·        World Health Organisation Certifies Gabon as Polio Free
The World Health Organisation declared Gabon a "polio-free country", given the lack of new reported or suspected cases in the central African country.
According to a WHO statement obtained, the UN health agency nonetheless recommended taking the necessary steps to continue monitoring for possible signs of the disease.
The Cases of polio have decreased by 99 per cent since 1988, when polio was endemic in 125 countries and 350,000 cases were recorded worldwide.
Gk bit – Gabon
Gabon is a sovereign state on the west coast of Central Africa. It has an area of nearly 270,000 square kilometres (100,000 sq mi) and its population is estimated at 2 million people. Its capital and largest city is Libreville. Since independence from France in 1960, Gabon has had just three presidents. Late President Omar Bongo ruled for more than four decades until his death in 2009.
Gabon is a major oil producer but a third of its population live in poverty, according to the World Bank.
Nepal hosts first International Wheelchair Cricket Tournament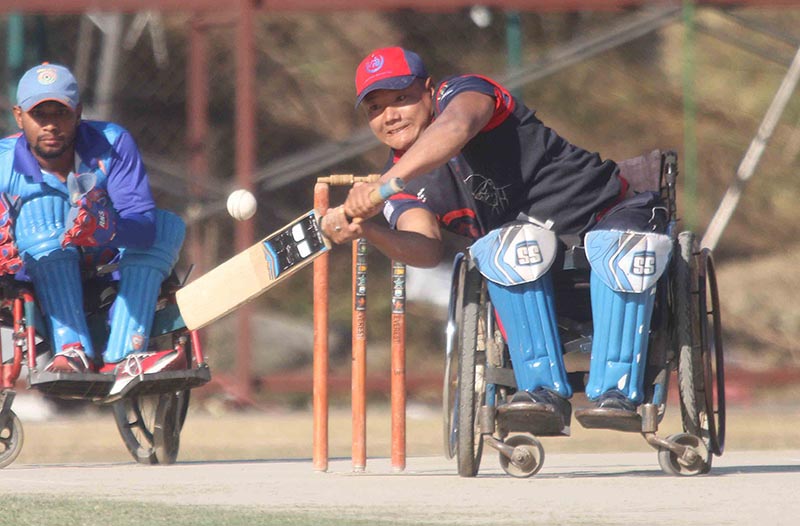 The first ever International Wheelchair Cricket Tournament was organised in Nepal's Kathmandu.
The tournament has participation of teams from Nepal, India and Bangladesh which is supported by the Sushil Koirala Memorial Foundation and technical assistance from the Kathmandu Cricket Training Center.
Indo-Maldives 'Exercise Ekuverin' begins in Belagavi
India and the Maldives have begun Exercise Ekuverin, their eighth annual joint military training event, in Belagavi.
The exercise will be an opportunity for the two armies to activate the Joint Operations Centre at Belagavi.
The exercise is aimed at enhancing interoperability between the two armies.
NATIONAL 
·        India reaches 2nd position on horticultural crops, fruits production list leaving others behind
Union Agriculture Minister Radha Mohan Singh research and development projects in horticulture crops have yielded encouraging results, as a result, the production of horticulture crops have been more than food grains irrespective of adverse climatic conditions.
After China, India is the second largest producer of horticultural crops and fruits.
The Agriculture Minister said more than 9 crore metric ton of fruits on 63 lakhs hectare land were produced during 2015-16. According to an estimate, a production of 30 crore metric ton horticulture crops on 2.5 crore hectare land is expected during 2016-17 in which contribution of fruit is significant. The record achievement includes 42 million ton of fruit production on 65 lakh hectare land. In terms of area in India, the citrus fruits hold second position (10.37 lakh hectare) and third (12 million tonnes) in production.
·        India's first Tesla car registered in Mumbai
India's first Tesla was registered at the Tardeo Regional Transport Office (RTO).
The Model X car, is owned by the business conglomerate Essar's CEO Prashant Ruia and is reportedly exempted from RTO taxes as it is an electric vehicle.
The SUV (sports utility vehicle) is also the 16th electric vehicle registered in Mumbai during the current financial year.
·        Union Cabinet approves North East Special Infrastructure Development Scheme
The Union Cabinet approved new Central Sector Scheme of North East Special Infrastructure Development Scheme"(NESIDS) from 2017-18.
The scheme will broadly cover the creation of infrastructure under following sectors (i) Physical infrastructure relating to water supply, power, connectivity and especially the projects promoting tourism.
The Infrastructure of social sectors of education and health.
The Union Cabinet also approved the continuation of existing Non-Lapsable Central Pool of Resources (NLCPR) scheme till March 2020 with funding pattern.
·        Union Cabinet approves continuation of National AYUSH Mission
The Union Cabinet gave its approval for continuation of centrally sponsored scheme of National AYUSH Mission (NAM)from April 2017 to March 2020.
The NAM was launched in September 2014. It is being implemented by Ministry of AYUSH with the objective of providing cost-effective universal access to AYUSH Services.
The main aims to address gaps in health services through supporting efforts of State/UTs for providing AYUSH health services and education in country.
·        GST Council Clears e-way Bill Mechanism
The GST Goods and Service Council decided to implement the e-way bill mechanism throughout the country by June 1st after reviewing the readiness of the IT network. Under the Goods and Services Tax (GST) regime, the waybill is replaced by an e-way bill.
It aims at mitigating the problems caused by waybill compliance. E-way bill is an electronic way bill for movement of goods which can be generated on the GSTN portal. The decision was taken in 24th meeting of the GST Council via Video-Conferencing.
APSC Notes brings Prelims and Mains programs for APSC Prelims and APSC Mains Exam preparation. Various Programs initiated by APSC Notes are as follows:-
For any doubt, Just leave us a Chat or
Fill us a querry