ASSAM
Assam floods: Twin embankment plan to check erosion.
The double embankment model is a little expensive but the concept can end the annual issue of erosion to a large extent. Designed by a young Innovator, the model works on building two embankments at a certain distance from each other. The space between the two is for holding water. "Medium size pipes are positioned in the first embankment to draw water from the river into the space between the two embankments. It can be used for irrigation or other fruitful purposes.
Both the embankments will be embedded with layers of gravel up to a certain depth. The use of concrete will strengthen the embankments. In addition to the plantation of trees, there will also be small structures of soil and gravel to act as barrier and protect the first embankment from erosion.
INTERNATIONAL
World's smallest surgical robot – Versius
Scientists in the United Kingdom (UK) have developed the world's smallest surgical robot called Versius. It was developed using low-cost technology used in mobile phones and space industries. The robot can mimic human arm and can be used to carry out a wide range of surgical procedures.
First Regional Centre of NDB Opens in South Africa
The first regional centre of the New Development Bank, set up by India and other BRICS nations, was officially opened in Johannesburg by South African President Jacob Zuma and the banks Indian head K V Kamath.
The New Development Bank (NDB), formerly referred to as the BRICS Development Bank, is a multilateral development bank established by the BRICS Nations (Brazil, Russia, India, China and South Africa) with an initial authorised capital of the bank is USD 100 billion.
The idea for setting up NDB was proposed by India at the 4th BRICS summit in 2012 held in New Delhi. The creation of a NDB was the main theme of the meeting.
NATIONAL
"Swasth Bachche Swasth Bharat" Programme launched by govt.
The Union Ministry of Human Resource Development (HRD) Prakash Javadekar launched 'Swasth Bachche, Swasth Bharat' Programme.
The programme is an initiative of Kendriya Vidyalaya Sangathan (KVS) to prepare a physical Health and Fitness Profile Card for more than 12 lakhs.
It aims to provide a comprehensive and inclusive report card for children covering all age groups and children of different abilities.
Swasth Bachche, Swasth Bharat programme will provide a comprehensive and inclusive report card for children covering all age groups and children of different abilities. Making students, teachers and parents aware about the importance of good health and fitness and encouraging 60 minutes of play each day is an objective of the programme.
Union Government launches digital police portal under CCTNS.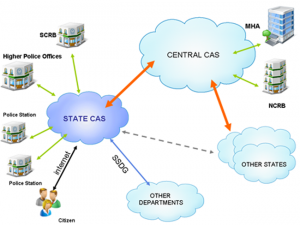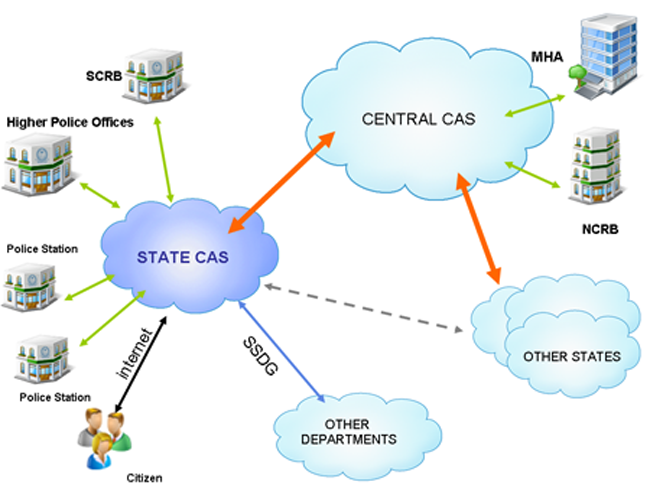 The Union Ministry of Home Affairs Shri Rajnath Singh launched digital police portal under Crime and Criminal Tracking Network and Systems Project (CCTNS).
The portal is a smart policing initiative of the Government to provide services to citizens and aid efficient police investigation.
It is a portal of a platform for citizens to file online crime related complaints and also request for antecedent verification.
CCTNS aims to integrate all the data and records of crime into a Core Application Software (CAS), which is presently spreading across 29 states and 7 union territories of India.
It will digitize data related to FIR registration, investigation and charge sheets in all police stations.
It would help in developing a national database of crime and criminals
Physical police verification for a passport will not be needed from next year as the Centre is planning to connect the procedure with the Crime and Criminal Tracking Network and Systems, CCTNS.
Karnataka Government launches clouding seeding Project "Varshadhari".
Karnataka Government launched clouding seeding Project Varshadhariin Bengaluru under which an aircraft will spray chemicals to induce rainfall.
It aims to condense small water particles by clouds (size less than 10 microns) to droplets of 50 microns, which can constitute rains.
Cloud seeding (also known as weather modification technique) is an artificial way to induce moisture in the clouds so as to cause a rainfall.
The cloud seeding project is an experimental project that will cover Bengaluru, Gadag and Yadgir districts of the state.
Gk bit – Cloud seeding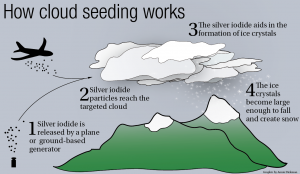 Cloud seeding is an artificial way of inducing moisture in the clouds to cause rainfall.
It is the process of spreading either dry ice, or more commonly, silver iodide aerosols, into the upper part of clouds to try to stimulate the precipitation process and form rain.
Telangana CM nominated for Agriculture Leadership Award 2017.
Telangana Chief Minister Chandrashekhar Rao has been nominated for the Agriculture Leadership Award 2017 by the Indian Council of Food and Agriculture.
Telangana Government under Rao's visionary leadership, launched a number of schemes that have created far reaching impact on the rural sector and the touched the lives of millions of farmers, said a statement.
Agriculture Leadership Award were instituted in 2008 for recognising excellence and leadership role played by individuals and organizations towards the development of Indian agriculture and bringing about rural prosperity.
The Award would be presented on September 5 during the 10th Global Agriculture Leadership Summit at Taj Palace, New Delhi.
APSC Notes brings Prelims and Mains programs for APSC Prelims and APSC Mains Exam preparation. Various Programs initiated by APSC Notes are as follows:-
For any doubt, Just leave us a Chat or
Fill us a querry